Please Note: Rentech Solutions no longer provides computer repair services. Please see below for more details.
Email a certified nerd at contact at certifiednerds.com
or call 330.598.1091 to speak to someone right now.
Ohio Computer Repair Akron - Certified Nerds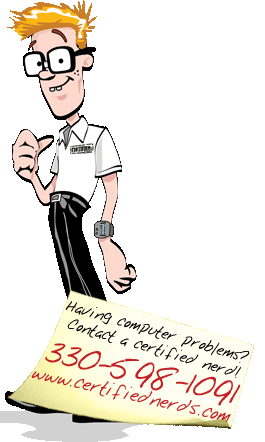 Computer Repair
Rentech Solutions also offers PC Repair and maintenance to local customers. We will assist you in removing viruses, we will trouble shoot everything from Internet connectivity problems to software issues. We offer great service at affordable prices. We have experienced technicians on hand to help you. Rentech Solutions has fast turn around time, we make every repair job a priority. As technology advances computers have become a key partner in our lives, we rely on them for almost everything we do. Based on that almost everyone now owns a pc. We feel that it is our duty as a company to do our best in repairing your computer as fast as possible. This is why Rentech Solutions has some of the best customer service around.
On Site Repair and Networking
Rentech Solutions provides on site technicians to come to your home or business for repairing and troubleshooting your computer or network. We have great response time, excellent follow up, and a skilled technician will arrive in uniform. We also offer services to create, manage, and edit complex data bases that our vital to a your companies success. Please call us to schedule a consultation with one of our skilled on site repair technicians. 216-398-1111
Repair Services Labor Price List
- Diagnostics Charge - 34.99
- Reloading Microsoft Windows - 89.99
- Virus Removal - 69.99
- Memory Upgrade - 19.99
- Power Supply Replacement - 19.99
- Hard Drive Replacement - 99.99
- Misc. Software Installs - 19.99
- Data Transfer & Recovery Per Hour - 49.99
- Misc. Repair Labor Per Hour - 49.99
- Priority Repair Job Per Hour - 79.99
On Site Services Labor Price List
- On Site Labor Per Hour - 99.99
- On Site Networking Labor Per Hour - 99.99
- Travel & Trip Charge - 14.99
Cities and States
Ohio Cleveland OH. Toledo Ohio Akron OH. Warren Ohio Youngstown OH. Canton Ohio Massillon OH. Findlay Ohio Lima OH. Columbus Ohio Mansfield OH. Newark Ohio Dayton OH. Cincinnati Ohio Springfield OH. Middletown Ohio Beavercreek OH. Parma Ohio Brooklyn OH. Old Brooklyn Euclid Independence Bedford Beachwood Mayfield Hts. Mentor Brook Park Middleburg Hts. Lakewood Westlake North Olmstead Elyria Fairview Park Solon Chagrin Falls Berea Shaker Hts. Cleveland Hts. Lyndhurst Eastlake Willoughby Hills Painesville Highland Hts. Orange South Russell Bay Village Garfield Hts. University Hts. Bratenahl Oakwood Brunswick Medina. Chesterland Bainbridge Chardon Cuyahoga County Medina County Lake County Geauga County Erie County Summit County Valley View Pepper Pike North Royalton Parma Hts. Sagamore Hills Walton Hills Brecksville Seven Hills Richfield Broadview Hts. Kent Bowling Green Findlay